With the advent of the Internet, people have changed the way they used to interact before, every interaction has faced a wavy shift. Somehow today the digital presence has dominated the physical presence and people feel more relaxed and express themselves more vibrantly through the podium of social media apps. Due to this social digitization the work culture, traveling, fashion trends, and preferences all are vigorously shifting in time.
OutSource Social Media Marketing of your Business to Experts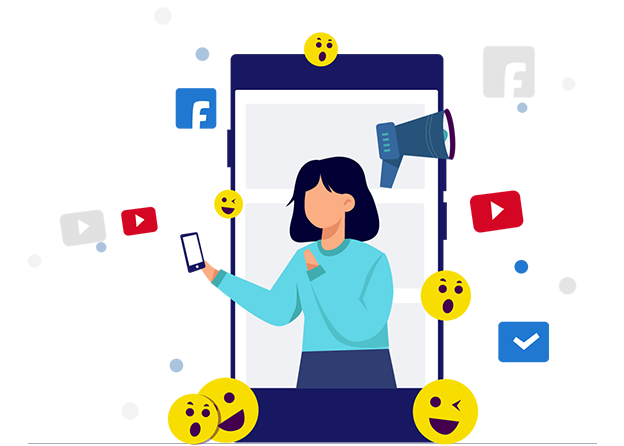 Social media is modifying the interaction patterns with our loved ones, relations can grow better or bitter all and these apps are to blame. For business, it has been an inexpensive tool to reach each and every customer out there. With an increase in Smartphone usage, the spending time ratio on these apps is hiking by leaps and bounds. Now let's discuss some of the most popular social media apps and websites being explored by the world today.
Facebook
Facebook is the first and largest social media platform that came into the market. With millions of users at the start and trillions today, Facebook is not coming slow from any direction. The doors of opportunities it has opened are numerous in number, this social media website and app has changed the way we used to connect with each other. Our social circle has increased from hundreds to millions now. Not only pictures or videos, but you can also actually share a lot more than this on this platform. Facebook has branded everyone who owns an account on it.
The most important feature of this platform is that it has shrunken the world. It made you closer to your old friends, reuniting them again and made it easier to connect with people who you just recently met. It has made us open about what our preferences likes and priorities are in life, the way we think about a certain topic, the things that used to be personal before are now sticking out on our Facebook timeline.
It has revolutionized the way we used to consume news and information. The never-ending news streams have made it a more rapid way of sharing "What's new" with trillions of users at a time. Besides sharing our personal data we share our views and ideas and discuss them with our friends in the comment section. It has given way to opinions, arguments, and appreciations.
On the other hand, Facebook has transformed the communication process of business to its customers. Now the customers can enquire about a product or a service 24/7. You can actually see the restaurant you want to visit before visiting it in actuality. People give reviews on the products they have bought or restaurants they have visited and on these reviews, businesses flourish and make money.
Instagram
Instagram came into the light as a unique social networking platform that enables its user to share their moments based on photos and videos. The most important feature of this platform is the filters that it offers which you can apply to your pictures and make them a piece of art. It now enables the users to share those pictures simultaneously on the other connected social apps too like Facebook. It is not only for mobile users it also offers a desktop site version, where you can manage your account more conveniently and with advanced options.
The wide scaled exposure of this addictive social platform has given it a more open visual spectrum among people having a laptop or a mobile device. Instagram is one of the fastest ways to communicate information about the latest trends and new breakthroughs in society. It's easier to grab more with precise readable details in captions and a picture that says it all. It has diversified beauty standards.
People are now more educated and breaking stereotypes in everything and the traditional narrow definition of beauty has gained a more elaborated and kaleidoscopic meaning. People no longer feel shame for having scars, stretch marks plus size, and much more. They have learned to appreciate the beauty in every color and every tone.
The insecurities are plummeting now. Instagram has changed the way we used to travel; now the vibe of "Insta-tourism" is getting everywhere, the tourist spots and the travelers have shifted their priorities to the places where they can take better pictures for Instagram. It has turned flatways into phenomena that gain millions of likes just in a few minutes.
There are brands that entirely were the birth of Instagram and now have gained worldwide recognition just relying on social media advertisements and offers. Displaying their products on "Insta-stories" and making attractive deals and gift sets for its customers all over the world. Instagram has brought out a new storm of influencers in the market; they make bite-sized content for every product they receive and review them which in return attracts their followers to buy the reviewed product. Instagram has given people a taste of doing online shopping while sitting in their homes and avail offers that were impossible to get on the physical stores.
Whatsapp
Whatsapp is an instant messaging app and a desktop version, that has revamped the way we used to rapidly communicate, saving us time and cost both. Now acquired by the Facebook giant Whatsapp allows us to send instant messages to our friends and family and share a lot more than that on this single platform.
This app is turning the old ways of sending a text message or telecom to an obsolete level. We used to be charged with soaring prices on festivals and occasions whenever we wanted to send a wish SMS to our loved ones but Whatsapp has totally diminished the high costing culture and made everything equal for everyone in the terms of sharing.
Earlier whenever we wanted to share pictures, MMs, emails, and Facebook photo uploading were the only options but with the advent of Watsapp hundreds of pictures could be shared in seconds without waiting for long timely attachments or extra disk space for email accounts.
The Whatsapp group feature allows users to make groups that serve their personal interests with people having mutual preferences. Family groups, friends group, art groups there are all types of groups on Whatsapp that one can join and get updated from a wider bulk of people around them. The icing on the cake is the call feature that has made calling free worldwide whether it's audio or video.
Twitter
Twitter is a microblogging website and app, where you can share short tweets massaged. Here you have a limited number of words that you can actually use to share your message with the world. Twitter has become the largest platform that all politicians and celebrities around the world use to convey their messages.
Twitter has made a trend of hashtags that covers the latest news on the issue going in a country or around the world, the activists' campaigns like #blacklivesmatter and #metoo movement have rushed a storm into people and they became more open to sharing their opinions, experiences and communicate them to the world by tweeting and using relevant hashtags. People support them by retweeting their tweets in millions and by commenting on their tweets.
Overnight success is the biggest trend now on every social media platform and this social networking site has made random people famous overnight. Twitter has made some politicians Heroes around the world. There's a lot good to Twitter but the dark side of it is also undeniable. It has made people a stock for abuse, keyboards warriors don't hesitate to say mean things to people who do not fall into their expectation bracket. They want everything according to their standards and this somehow puts psychological pressure on the person being in the limelight of social media.
Tiktok
Tiktok is a social media app for sharing 15-sec to 1-minute videos and expressing yourself through whatever you are good at. The tall format of the shared video is different from Snapchat, Facebook, and Instagram. This app allows you to navigate through the videos by scrolling and down rather than swiping to the sides.
The vast array of tools that it offers and the music library is the most attractive feature of this app, previously known as music.aly this app is the biggest social media app trending right now with millions of downloads each day. Here the users can dance, make content, and can back those videos with their likable music taken from Tiktok's library or from YouTubes cut. This app allows and encourages users to engage with other users by making song duet videos by placing two videos alongside.
The hashtag culture was original of Twitter but here in Tiktok it has become more productive and a functional organizing principle, where various challenges, jokes, or music chunks trends in the form of hashtags and millions of people at a time actually follow these hashtags and bring their relevant content at Tiktok's landscape.
The best feature of this app is that you don't have to learn critical editing software to edit your videos. There is just a couple of small steps, with a variety of filters animations and there you go with a YouTube level 15 second video becoming viral on all the social media platforms.
YouTube
YouTube is the biggest video-sharing networking platform that allows us to share videos by uploading them view likes and comments and subscribing to the channel it gets uploaded. YouTube has become more famous because of its worldwide presence. People make channels on YouTube and upload tutorials, daily Vlogs, videos, music, and much more.
The highly viewed and highly subscribed channel gets monetized and YouTube actually pays them for their views. The silver and golden button culture have motivated many of the users to bring themselves out and make the content that is up to mark. Through the comment section, the channel owner can get instant feedback on the uploaded video and improvise the content according to it.
Other than that businesses can leverage through putting advertisements on the YouTube channels in between the most subscribed and the most viewed videos. YouTube has given fame and the face of many talented people even in Pakistan. People solely earn from this platform on a daily basis and it has changed many lives. The most amazing ability of YouTube is that it has made the world a smaller place we can view places of the world we have never been to. It has opened the doors of new talent discovery. It has totally revolutionized the entertainment industry by spreading the truth and inciting change among people. The Edu-tutorials have also transformed the way we used to share education and learning in institutions.
LinkedIn
LinkedIn is the most popular professional social networking website and app, used solely for the purpose of professional networking, job hunting, and recruiting. People make their professional profile here follow the companies they want to work with and get hired by the employers who look at their professional experience in a certain field on their profiles.
LinkedIn is available in more than 20 languages catering to users around the world. It is widely used across the globe by employers and candidate who wants to get hired. Businesses can use this platform to build contacts with other businesses professionals and candidates.
This platform has saved the talent hunting cost of the businesses with the minimal subscription fee, now businesses can hire skillful candidates suitable for the posts. It has revolutionized the worldwide recruiting system among every corporation. Now it's important for serious businesses to have a link in presence in order to build relationships and hiring processes.
Imo
Imo is an app that allows users to chat, video, and audio call for free. With just a Wi-Fi connection or a 2-4G connection, users can chat in groups or in personal chat with their friends and family. It is a cross-platform app that can be used in Android, IOS, and devices. Imo has multiple features to the type of emojis and group chat it offers is entirely different from other apps.
This app asks your age while signing up to protect kids from any inappropriate interaction, which other apps like Snapchat or WhatsApp don't do. So this app is safe for kids under adult supervision. Imo offers in-app purchases and advertisements to its free users and if you want an advertisement-free interface you have to get a premium Imo account. Imo offers privacy and end-to-end encryption of all the chats of its users.
Snapchat
Snapchat is a social platform that allows you to interact with your friends by sharing photos and videos termed as stories having a deadline of 24 hours. It enables you to chat with your friends using pictures and emojis. The Snapchat discovery feature allows you to tap and explore news and check live stories of your favorite celebrity or the happenings around the world. The location feature of Snapchat has made it easier to track your friends who are nearby you. 
Snapchat has begun a new trend of story-making by which users can share a whole story instead of sharing just a picture with their friends. Snapchat filters are the ones that have made it so popular among everyone. The launch of birthday photo filters on one's birthday and other occasionally filters relating to a country festival and occasion has made it a piece of attraction and addictive at the same time.
Messenger
Messenger is a free mobile messaging app used for sharing photos, videos, audio, group chats, and instant messages. It focuses on the Facebook app and is a part of the Facebook platform for sending instant messages and sharing stuff with your Facebook friends, it is different from WhatsApp and Imo because it only syncs your Facebook friends list as a contact, not your personal phone contact list.
Messenger lets its users chat in chatgroups. Other than that it's a more instant way of interacting with your Facebook friends rather than going on to the Facebook site and chatting under the massages head. You can message your Facebook friends without a messenger app too but downloading this app makes your Facebook experience more enhanced.
Conclusion
Social Media is the need of everyone in this era to communicate with friends, family and to do business. There are multiple social platforms that Pakistani users and businesses use on a daily basis. The most popular are Facebook, Instagram, WhatsApp, TikTok, and youtube among most people. Twitter is mostly used by journalists, politicians, celebrities, and Government servants. Linkedin is mostly used by private job holders and companies. TECHOUSE is the best company that offers low-cost Social Media Marketing Services.