Hello there! You must have been looking for how search engine optimization (SEO) works or something related. Whether you used Google, Bing, Yahoo, or other means to get here on this page we're glad that it has led us to an opportunity of teaching what is SEO and how does it work.
What does SEO mean?
SEO stands for Search Engine Optimization which is a part of Digital Marketing. It is the process of influencing the online visibility of a website or a web page in a search engine's unpaid results—often referred to as "natural", "organic", or "earned" results.
In general, the earlier (or higher ranked on the search results page), and more frequently a site appears in the search results list, the more visitors it will receive from the search engine's users.
SEO may target different kinds of search, including image search, local search, video search, academic search, news search, and industry-specific vertical search engines.
SEO: Search Engine Optimization
SEO basically is the process of getting traffic from free organic search. SEO includes all those techniques that are used to improve your web page or website in order for it to rank higher on major search engines like Google, Bing, etc… for targeted keyword searches using certain methods.
This means that you have to work on all those factors which will increase your ranking so that when people search for relevant keywords, they visit your site over and over again. There are some other benefits as well –
Boosts your brand image
Increases user experience
Improves positioning power
Enhances visibility
Allows reaching a wider audience
Why is SEO important?
If you are to start your business, then SEO is very important because it will help you get relevant traffic for free. When people search on Google using certain keywords, they intend to find something that can be of benefit to them in any way.
Let us assume that 10 people use the keyword "used cars" and visited some websites today. After searching, if they don't find what they were looking for then tomorrow those 10 people will not come again to the same site even though they used the same keyword.
This means that those visitors will now go somewhere else if their queries are not satisfied by visiting one particular website over and over again and instead look at other options as well like Yahoo or MSN etc…
Now let's see how do these all big websites rank first on Google?
Google ranks because millions of dollars are spent monthly for their advertisements. If you want to be visible on Google and other search engines, then you have to spend money as well because free organic traffic is not enough these days.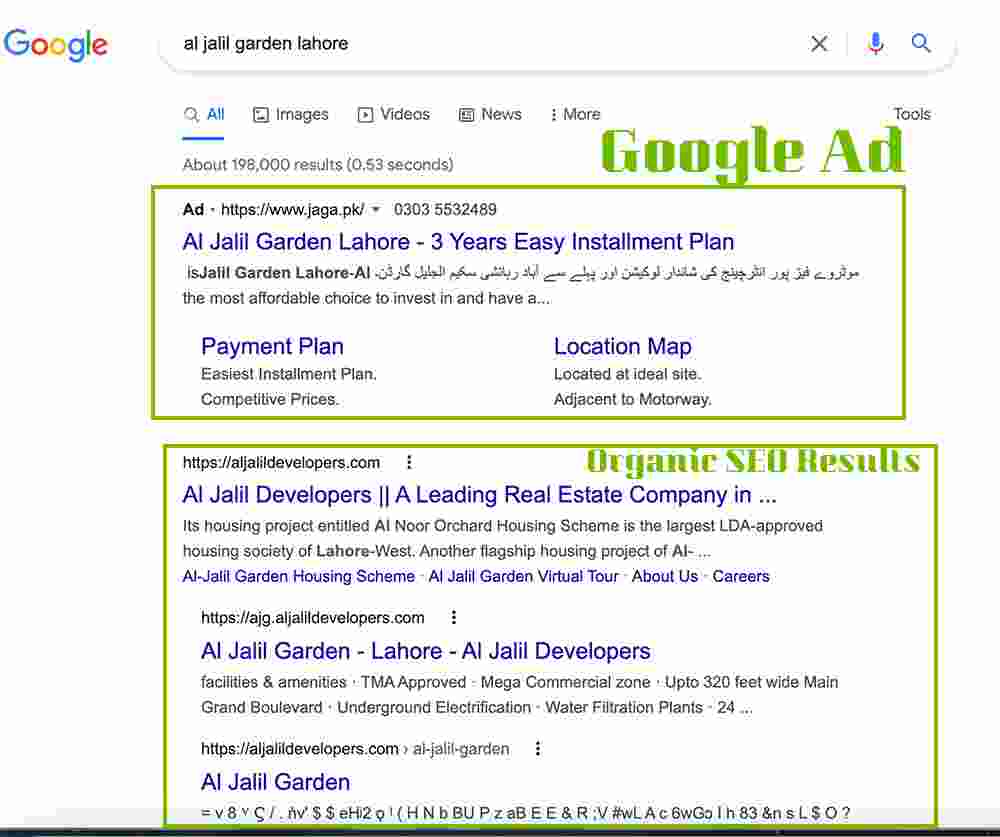 Note: Free organic traffic means your website's ranking will show up in the search results but it won't always be on top like the picture above which shows that jaga.pk is ranked first because they spend big bucks.
So if you are a blogger or website owner and don't want to pay for ads (which most of us dislike) and want to rank higher, spending money doesn't mean that you will get anything back because you can lose all your investment very quickly. It takes time and effort to build one's authority in a certain field or niche which eventually helps in making more money.
Authority: Authority means how strong a website or a web page is. If you build authority, it means people trust your site and will keep returning to it regularly because they get their answers on the subject of interest from only that one place only which matters most for them. This makes Google think that you must be an expert in your field and therefore your content will be ranked higher by them on search result pages.
In simple words, building authority depends upon various factors like
Content relevancy
Quality [content]
Update [content] regularly
Social Media presence etc…
What are Search Engines?
Search Engines are websites where you can search for information on any subject. Google, Yahoo, Yandex, and Bing are some popular examples of Search Engines that people use daily to search for information across the web.
How do they work?
When you type in a query/keyword in the Search Engine box and hit enter, it looks into its index (basically an organized collection) of billions of documents on the internet and provides results related to your query.
The higher ranked sites appear on top in SERP or Search Engine Result Page. So basically when you search for something in Google-like 'Real Estate Portal in Pakistan', the best real estate company's website will appear at the topmost position if they have good quality content within their site matching your query.
How are search engines differ from one another?
Search Engines provide results based on their own algorithm which takes into account how many pages that keyword is found in the Search Engine website, its frequency, and location within a webpage, etc.
The ranking of a site in SERP depends on how well it matches your keyword/query and what kind of authority the site has. So if you want to rank high for a particular term or keyword, you need to create quality content around that topic so that major Search Engines can find it easily while crawling their index.
In other words, search engines work by matching the keywords searched by users with relevant web pages present on the internet using complex algorithms. Here we discuss Google's basic search engine algorithm.
Google's PageRank Algorithm
In simple terms, Google has an index of trillions of web pages and its own PageRank Algorithm works by assigning a score between 0 to 10 for each webpage depending on how many other quality pages link back to it. So the higher the PageRank is for a page, the more important or popular that page is across the internet with respect to a query/keyword.
This method is now obsolete for SEO's but it may be there in more than 200 factors of Google SEO algorithm.
And what's this all got to do with Seo?
Seo is basically optimizing your website so that you can appear at the topmost position possible in SERPs when people type in relevant keywords related to your business/website. You need great content within your site as well as great backlinks from other sites (popular blogs and industry-specific websites)to rank high in Search Engines.
Why do you need Seo? Why not just rely on Search Engines?
Let's suppose that someone has created a website for the best real estate company in Pakistan with good quality content. So if they manage to rank #1 under the 'Real Estate Agents in Pakistan' keyword on Google, what about other people who are interested in buying or selling properties but still haven't found anyone particular real estate agency website yet?
Also since it's very competitive out there, it's pretty hard to position yourself on top of the SERPs with respect to highly competitive keywords without some sort of SEO. So basically you can't just rely on search engines anymore.
With time more and more people are using smartphones and tablets to perform web searches. So if you want to appear on top of various search engines, it's crucial that your website is mobile-friendly as well.
Why do Search Engines care about SEO?
Search Engines provide different search results to their users based on how they rank websites. To figure out the best ranking, Search engines like Google and Bing follow a complex calculation while crawling through your website's content which is basically built around one main factor – 'What are your visitors looking for?'
Thus in order to get good rankings in SERPs, it becomes essential that you have user-friendly content by which you can satisfy the curiosity of people who are using search engines to find answers about something.
This ultimately helps business owners target audiences with better products/services by understanding what exactly do they want to find on your site. Your targeted customers will feel secure when they come across content on your site, thus helping build trust between you and them.
This is where SEO becomes important that helps Search Engines find your site relevant to people's searching.
Now that you know why you need SEO, let's get into the process of it.
How do Search Engines rank Websites?
Search engines are crawling billions of websites daily to look for content for their indexing. They use spiders or crawlers which are basically programs that check each page on your website, read through its contents, and extract keywords used in content along with other information like header tags present on the page, meta tags, etc.
Each keyword is given a value based on its search volume in different regions of the globe so that search engines can figure out what group of the audience does these keywords target.
What are Meta Tags?
Meta tags are certain HTML codes that are present inside the <head></head> section of your website. They provide information about your site to Search Engines like description, keywords, author's name, etc. Meta tags do not have an effect on how search engines rank your site but they play a crucial role in figuring out what kind of content you have on it.
SEO Services Company uses different techniques to optimize meta tags so that it can catch good keywords before other companies do.
What is the difference between Google Indexing and Crawling?
Google crawls through billions of websites every day looking for new pages and updating them in their index.
When we say 'index', we mean a complete set or of data that is huge and can't be possible to store on your hard drive.
Indexes are stored at different servers that belong to Google and they use programs called Google bots for accessing this data and making updates to it.
What are the types of Search Engine Optimization?
There are three types of search engine optimization. They are on-page SEO, off-page SEO, and technical or server-side SEO.
What is On-Page SEO?
On-page Search Engine Optimization (SEO) is the name given to the practice of affecting the content displayed by a search engine in order to rank higher for specific keywords or phrases. It can also be referred to as "on-site optimization" or "on-web page optimization".
Through On-Page SEO, webmasters can improve their websites' rankings in search engine results pages (SERPs). By following good practices like using relevant keywords throughout your site's content and HTML links pointing to other reputable sites, you'll help search engines deliver relevant traffic to your site.
Visit here to find step by step process of On-Page Optimization.
What is Off-Page SEO?
Off-Page Search Engine Optimization (SEO) is the name given to the practice of affecting a website's standing in SERPs through links from other websites. A link that points to another website or webpage that has relevant content and is relevant to your own Site's content will attract more visitors, which eventually improves the site's rankings on search engines.
Links are 'votes' for the popularity of certain sites. The number of quality backlinks counts more than quantity when it comes to getting higher rankings on Google or Yahoo search results pages. Search Engines constantly update their ranking algorithms, so establishing automated processes is recommended because manual approaches are time-consuming and often ineffective in maintaining high rankings.
Visit here to find the step-by-step process of Off-Page Optimisation.
What is Technical or Server Side SEO?
Technical On-Page Optimization (SEO) is the name given to the practice of affecting a website's standing in SERPs through HTML, CSS, and other page coding. This type of optimization focuses on aspects like site structure, indexing, core web vitals, etc.
Webmasters can utilize these to influence how their web pages are indexed by search engines and what position they will hold in SERPs accordingly. Although technical SEO can be complex for beginners to understand, implementing certain techniques like using the right cache technique, fast web hosting, the responsiveness of website on all devices, and easy flow of the website to make the user experience better, etc is helpful in this regard.
Do you want to know how SEO works? And how to do SEO?
If your answer is YES, then read on. If not, wait until the end of this article. It would save you a lot of time and effort. But it won't be easy for us!.
How to do Seo?
For this read our guides on, on-page optimization and off-page optimization.
How does Seo work?
Most people know that there are certain keywords and phrases (called "keywords" by SEO) that they would like their site to rank for within search engines – but what many don't realize is how much more complex SEO has become than just selecting appropriate keywords. While you should still be careful about the content on your site and the keywords that you choose, there is much more to SEO than just selecting which words you want your site to rank for.
SEO has become a moving target, constantly changing with the search engines' ever-evolving algorithms and how people use their systems. While an approach that works today might not work in six months or a year, we can still give you some tips on what you should be doing in order to bring in traffic from search engine results:
1. Build high-quality, relevant content – this will help search engines understand what your website is about and thus rank it higher when someone searches relevant terms.
2. Have social media accounts with many followers who interact regularly – this allows engines to view your business as popular and well-suited to answer user queries.
3. Make sure that your site is mobile responsive – many people search on mobile devices, so if you have a website that isn't designed to work properly on these devices, you could be missing out on substantial amounts of traffic.
4. Try sharing your content across various mediums – this includes social media, email newsletters, distribution lists, etc. Google has also created an excellent tool for finding relevant participating sites called Google Authorship which can help push your business higher in rankings through additional links.
5. Get links from reliable sources – links are how search engines determine where your site fits in with others online. You want to try and acquire links from other relevant sources that aren't looking purely to manipulate the ranking of their own site.
6. Use photo-sharing websites – embedding images on your website is a great way to increase traffic and search engine results, but if you want your photos to appear in search engines, upload them to sites like Flickr or Picasa which are included in Google's search results are ideal.
7. Submit sitemaps for crawling – this tip might be more relevant for larger businesses that have complex websites with multiple pages and features, but it can still be used by smaller ones as well. A sitemap lists all of the web pages on your site so that crawlers know where they should focus their efforts when indexing content.
8. Get some backlinks/SEO links – backlinks are incoming links to your site and can come from anywhere. Websites, social media sites like Facebook or Twitter, articles on other blogs; all are potential sources for backlinks that can improve search engine rankings
9. Carefully choose which pages should be indexed – if you have a large website with hundreds of web pages but only want a few pages to show up in search results, it is possible to request this using the "noindex" tag on those pages. This tells crawlers not to include those pages within search results, helping them stay clean and organized.
What makes SEO good or bad?
Search engine optimization is about making your site visible, easy to find, and with the right content. It's all about increasing the number of visitors to a specific web page. If you want to be successful in business, you have to build a good relationship with the search engines, so they'll send more traffic your way.
If you follow black hat SEO techniques you'll have a bad relationship with the search engines and they'll deindex your site. They do it because a large number of businesses still think that spamming is a fast way to get high rankings. High rankings = more visitors, but the visitors won't stay beyond a few seconds if they can't find what they were looking for.
You have to invest some time and money into your SEO campaign if you want to get good results. You have to be patient. If you have a new site, it will take some time to get high rankings.
Every search engine has its own standards and algorithms for ranking pages. In order to understand SEO, you have to learn how Google works in detail because it's the most popular search engine right now. Then you can apply that knowledge to other search engines. Good luck!
What are some examples of SEO?
Search Engine Optimization is the process of improving your website's visibility in search engines. For the typical user, the easiest way to find something online is via a Google search box or through a specialized search engine like YouTube or Amazon.
Therefore, making sure that your business appears prominently in these results for relevant searches is absolutely vital to its success at reaching customers online.
What are the factors influencing SEO?
The main factors influencing SEO are: –
Your own website
Are you using a responsive web design or Joomla template with a built-in SEO plugin? Are you following best practices when it comes to site structure and page speed? These things matter a lot because Google uses its own crawler (Googlebot) to crawl your website and index it into its database.
Your backlinks
Do you have high-quality links from highly authoritative sites on any specific topic relevant to your business/website? If yes then good for you. Be sure to check your link profile on regular basis and try removing any bad links you might have.
Your competitors
What are they doing to rank well for their keywords? If you can't beat them, join them! You can find your competitor's backlinks by using tools like AHREFs or Open Site Explorer.
Pick one or two keywords that matter the most for your business/website and try improving your content around those keyphrases so that it matches perfectly with the queries other people type in search engines.
Frequently Asked Questions (FAQ):
Below we discuss the most frequently asked questions about SEO.
What are some negative aspects of SEO?
There's no such thing as "bad" SEO because there's no way you can trick Google. There are many black hat techniques that should be avoided though. Some people think it's OK to use these practices because it only works for a short period but Google keeps changing its algorithm so these sites will eventually disappear from search results. I'd rather focus on white hat practices, which are safe and long-term.
How to do the right SEO? I don't understand it at all!
SEO is a complex topic that requires some knowledge if you want to do it right. It's about making the site more visible for search engines, but also about building authority with social media. Ranking high on Google takes time so you have to commit to the process instead of expecting quick results.
What SEO tips would you recommend for beginners?
It can be tough for newbies, but there are ways to speed up their learning curve. If I had only one tip though, it would be this: Stop obsessing over rankings and go create valuable content instead. That's not as hard as it sounds because your visitors will help you improve your site.
Would you say it's better to hire an SEO specialist?
You can definitely go that route but don't expect them to do the job for you because there are too many things to consider (keyword research, content creation, Internet marketing…) This would be like expecting your mechanic to build your car!
Search engine optimization is not about ranking high on Google; it's about getting found by the right people and turning those visitors into customers. Do I need a website or social media profile? Why? You will definitely need a website if you want to drive traffic back to your site.
Websites are optimized for search engines so they're perfect tools for promoting your business online. A lot of webmasters think they shouldn't bother with social media because their site is already doing great. That's a mistake though because those sites could drive massive amounts of traffic to your website.
I'd say every webmaster needs to have at least one account on each popular social network, but that would depend on the nature of your business.
What types of content should I share on social media?
The problem with sharing "the same old" content is that you'll look unnatural and it won't bring any results. On the contrary, you have to mix things up so you can build trust and authority in Google's eyes.
You need to be a good storyteller by telling interesting stories related to your industry or by asking valuable questions like "What does your business do?" Sharing pictures of cats will not help you get found by the right people, but I guess that's not what you're interested in anyway.
How do social media and SEO tie together?
In a nutshell: content is king! Nobody likes to share boring stuff on social media so it's up to you to create valuable content. Social signals don't play a big role in search engine rankings but they definitely boost traffic. Some studies have shown links from popular sites can boost page rankings by up to 30 percent… Not bad at all! What is link building and why does it matter?
Link building should be your top priority if you want Google to rank your site higher than established competitors. It doesn't mean you need thousands of links though because trust is more important than quantity. You could either get links by guest posting or by asking your visitors to link back to the pages they like (most people forget about this last part though).
Isn't it extremely hard these days to build links?
It used to be harder but it still takes time, patience, and creativity. Google definitely doesn't want to see lazy strategies that only work for a short period of time, so you'll need to invest in different aspects of SEO if you want long-term success. The good news is there are plenty of great articles on Moz, SEMrush, and other sites that will help you improve your skills.
Is quality content really the key to success?
I'd say quality content is mandatory because nobody likes wasting their time online. You'll need to measure different factors like bounce rate, page views per user, and so on. If they're too high, you might want to improve your site's design or navigation. Google is also known for rewarding sites with great content because it keeps users engaged. I'd say the biggest challenge for webmasters would be competition since most people are looking for shortcuts.
The thing with SEO is that it takes months before you see any progress, but once you get there you're ranking higher than ever! One of my favorite quotes about SEO comes from Rand Fishkin who said "SEO isn't a technical procedure; it's simply an ongoing process of improvement ." Thanks for reading my article, hopefully, you can use these tips in your own business.